Mary Woodbury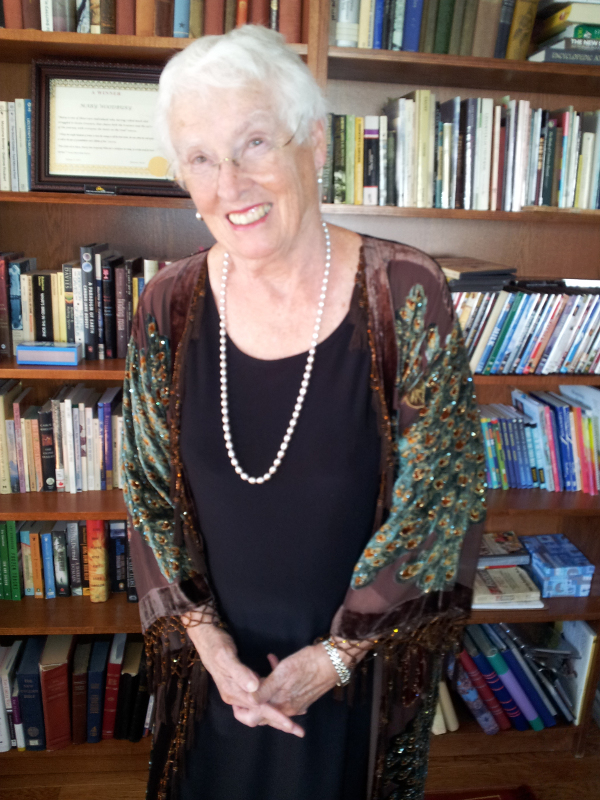 Mary Ann Woodbury, 77, of Edmonton, passed away suddenly on Saturday, January 19, 2013. She was born in May 1935, to Grace and George Harker in Toronto, Ontario.
Mary was married to her husband Clair Woodbury fpr 56 years. They were married in Kingston, Ontario in May 1957.
She is also fondly remembered by her 4 sons and their wives, and 8 grandchildren.
Originally from Ontario, Mary lived in Newfoundland, New York, and Italy before moving to Edmonton in the late 1970's.
Mary was an accomplished author of a number of best-selling books for young people plus several adult books.
She was a fixture of the Alberta literary scene for decades, and was one of seven Alberta women named as a Mistress of the Modern in 2012 for her lifetime of achievements.
We invite you to explore more about this very remarkable and fondly remembered woman using the tabs above.
Mary Woodbury's Last Book
Merron's Ghosts
When Merron  McAllister Harkness travels to Islay, island home of her Scottish ancestors, the ghost of her beloved grandmother comes too. What does the ghost want?
Not one but two young men compete for Merron's attention — a new experience for this lively but shy 14 year old. Ian Currie is American with Scottish roots. Gerhardt has a motor bike. Which should it be?
A key that was a gift from Merron's grandmother opens a window on the past and possibilities for the future. Her companion on the journey Aunt Ann finds a future of her own. What lies ahead for Merron with her visions and her Scottish second sight?
Research for the book meant travelling to Islay, the island from which Mary's great grandparents on the McAlister side emigrated to Canada. In a way it was a discovery of her own roots.