Mary's Books for Adults
STILL LIFE AT SEVENTY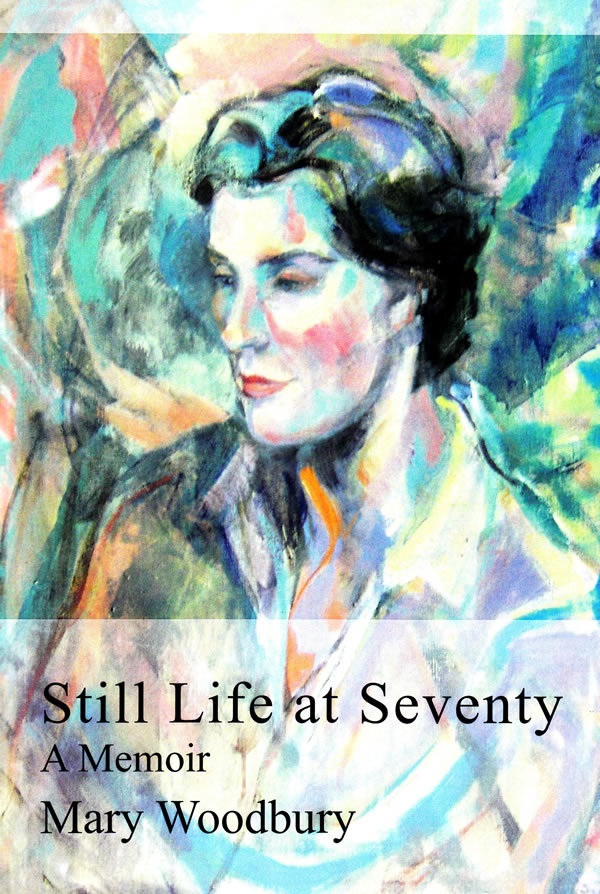 Mary Woodbury's memoir STILL LIFE AT SEVENTY contains a number of her previously published stories that have captured readers who appreciate her depth and humour. There are a number of new pieces that have not been previously available. Then there are the poems that explore what it means to be young or middle aged or in those golden years that are sometimes less than golden but always rich with relationships.
The four sections:
1. An Ontario Childhood
2. Colour Me Woman
3. Call Me Creative
4. What the Mirror Tells Me
From Mary's Introduction
I think it was the American poet Maya Angelou who said, "There's a world of difference between living and having a life." I have had a life. I have been granted a rich and long healthy life. I am thankful every day for the privilege of being alive on this planet.
This book is a literary scrapbook of that life so far. Some of the poetry, personal essays and stories have been previously published or read aloud as performance pieces. This collection by no means records my whole journey. Rather it dips and dives into what I consider the four stages of my life; my childhood in Ontario, my twenties with marriage, motherhood, early career and activism, my life as a creative artist, and finally poems and prose about the art and anxiety of aging. My son Peter said he always read my novels to find out what event or situation in our family's life I had used, disguised or lent to my fictional characters, to help my story along.
Available as a download from the Amazon.com Kindle Store.
---
FRUITBODIES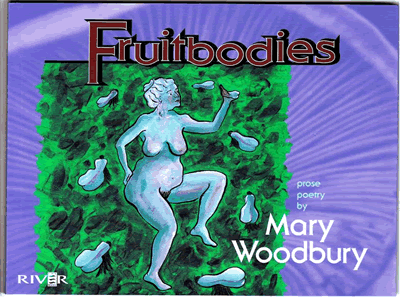 Fruitbodies is a collection of poetry from Mary Woodbury's middle years. It brings understanding, humour and compassion to its reflections on the struggles of being a woman in the 20th century.
Contents
* The Loving Woman
* The Creative Woman
* The Aging Woman
From Mary: "Poetry combines music, memory, and reflection. These poems reach for the universal through my particular experience. I aim for honesty, accessibility and simplicity. I write poetry in order to bring clarity to my life journey as it passes. I share these poems with others with great trepidation, but am given the courage to do so by the knowledge that I am giving voice not just to my journey but to everywoman's."
From Luanne Armstrong, editor: "It's been my privilege to have a view, as it were, over Mary's shoulder, as she wrote the texture and meaning of her life. Editing was a joyous process for me, a final affirmation of this long maturing. As well, there was the utter satisfaction of poet shoptalk, the consideration of words, images, order, the delicate placement of commas."
---
THE MIDWIFE'S TALE
Ten plays for voices
by Mary Woodbury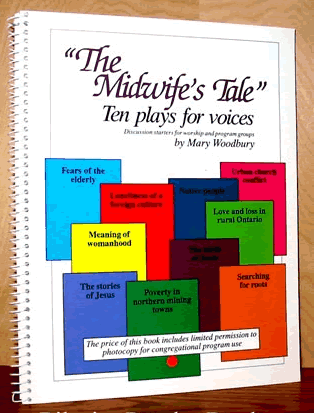 In this collection of ten plays for voices, Mary Woodbury offers some inspiring stories for reflection and enjoyment. Feel the pain of a young girl explsed to poverty for the first time, the fears of an elderly woman facing a major decision in her life, the satisfaction of a middle-ages woman searching out and preserving her roots, the frustration of a young minister as he struggles with conflict between youth and seniority in his congregation. Two biblical plays give fresh perspectives on how the gospels were written and on the birth of Jesus.
Any group can sue these plays by having its own members read the parts. These are plays for voices. They don't need to be memorized or performed by skilloedc actors.
Use these plays in women's meetings, Bible study groups, youth gatherings, or during worship services.