Remembering Mary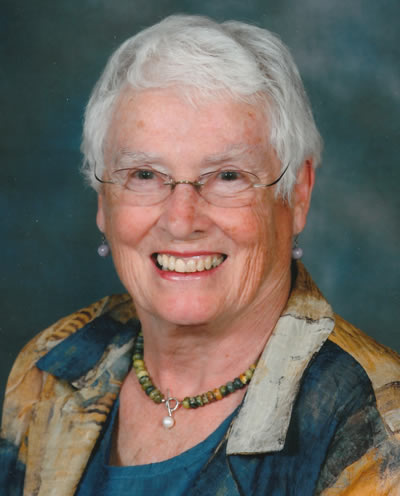 Mary Woodbury was born Mary Ann Harker in 1935 in Winnipeg. Her parents, George and Grace Harker, moved to Toronto and then to London, Ontario, where Mary attended high school and met her husband to be, Clair Woodbury.
She attended London Normal School and became a teacher -- and taught for several years first in London, and then in Kingston where her fiance Clair was attending Royal Military College. They were married May 18, 2017, the day after Clair graduated from RMC.
Mary and Clair have four sons: David, Robert, Ian and Peter. David and Robert were born in Kingston while Mary and Clair were running a boarding house for students at Queen's University. Ian too was born in Kinston, but because it was the best hospital while they lived in the northern Ontario lumber town of Whitney.
Peter came with the two year stay in St. John's Newfoundland. Mary wrote scripts for a CBC school program. Then two years in Aurora Ontario, home of St. Andrew's College. It was while the lived in Aurora that the CBC read her narrative poem "Death of the Brick Prophet" on air.
Always eager to learn more and contribute to church renewal, Mary, Clair and the family became part of the Ecumenical Instute of Chicago. Mary served as associate editor of the Institute magazine while in Chicago, training that lead to her being chosen as the editor of Transport Canada Magazine during the two years in Ottawa.
Then came the adventure of three years in Italy doing an economic renewal project in the village of Termine near L'Aquila. Mary established a preschool program among her many activities.
Moving to Edmonton meant settling in one place fo the first time. It was time, Mary felt, to take writing seriously, and she became the author of a number of best-selling books for young people plus several adult books. Her poetry is often humorous and very accessible. She is a well known writing instructor as well as featured speaker at writing related events.
Young people know her for her Polly McDoodle series. The Invisible Polly McDoodle and The Intrepid Polly McDoodle were both "Our Choice" selections of the Canadian Children's Book Centre. She has been short listed for many awards.
Her other young adult books include:
Letting Go,
Where in the World is Jenny Parker?
Brad's Universe
A Gift for Johnny Know-It-All
Jess and the Runaway Grandpa
Mary helped found The Books Collective, a publishing house that gave many young authors their start. Together with Luanne Armstrong and Peggy Graham, she launched the literary magazine Other Voices. Published twice a year, it remained a vibrant contributor to Alberta literary culture until just recently. Mary was a member of the founding Board of the Writers Guild of Alberta when it begain in 1979. She helped found the local Edmonton chapter of the Canadian Society for Children's Authors, Illustrators, and Performers (CANSCAIP). Until her passing, she served on the board of YABS, the Young Alberta Book Society.

Edmonton has been her home since 1979, together with her husband Clair and a West Highland White Terrier named Misty.
Mary passed away quietly in her sleep at the age of 77 on January 19, 2013.
Mary Woodbury - "Mistress of the Modern"
Mary Woodbury has just received the honour of being named "Mistress of the Modern", one of seven honoured in a gala celebration at the Alberta Art Gallery. The art galary exhibit features ten women whose artistic output from 1935 - 1975 was outstanding, but whose work has not been adequately recognized.
The seven chosen as a contemporary "Mistress of the Modern" are outstanding women whose contribution has not been adequately recognized. Mary's citation reads:
Mary Woodbury has been a fixture of the Alberta literary scene for decades. best known as a writer of books for young people, Mary has experimented with numerous other genres and through her important work in publishing, writing organizations and workshops, has fostered the thriving community of writers in this province.
Growing up Mary always wanted to write but was told that, as a young woman, she could have one of a very limited number of careers. Mary quietly wrote, publishing here and there, for years. After settling in Alberta in 1979, Mary began her writing career in earnest and writers and readers alike have since benefited from her talent, energy and ingrained sense of community. She was particularly motivated by her supportive husband and children. There are countless stories of writers young and old who have been inspired or encouraged by Mary's warmth and insight.
Nearly 25 years ago, Mary, along with three other writer friends, formed Other Voices, a biannual literary magazing that has since gone on to publish the work of writers from Alberta and around the world. Other Voices has provided a space where unheard voices, particularly of women writers, are celebrated. It is truly one of the foundation stones of the Alberta literary community. Additionally, Mary has been instrumental in the formation of the publishing houses "The Books Collective" and "Hodgepog Press", as well as the Writers Guild of Alberta and the local chapter of the Canadian Society for Children's Authors, Illustrators and Performers. Through her numerous mentorships and workshops, for adults, seniors and youths, she has influenced several generations of writers in Alberta.
The written word is one of the most important methods we have for celebrating Alberta stories and nurturing a diverse, thriving culture. Mary's impact on the Alberta literary community has been immense and her talent and hard work will resonate for generations.
View some of the pictures from the presentation -- and check out Mary's books, using the links above.
| | |
| --- | --- |
| | The nomination process for Mary was organized by Jeanna Baty, and seconded by Alice Major, Shirley Serviss, Dianne Linden, Stephanie Gregorwich, Cheryl Edwards, and Colleen Heffernan. Former Edmonton City Counsellor Michael Phair was among the first to congratulate Mary. The Premier of Alberta Alison Redford was present to congratulate all the honourees. |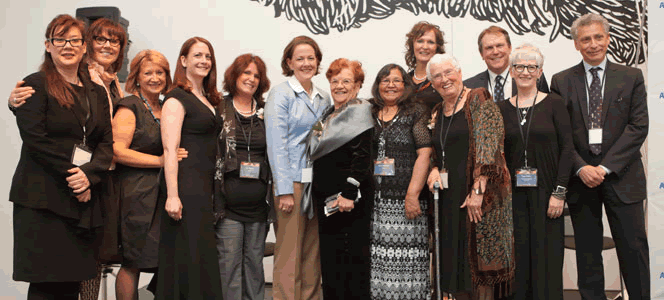 MISTRESS OF THE MODERN honorees along with dignitaries at the Alberta Art Gallery presentation.